SKEMA Business and Law is the law association of the Lille campus.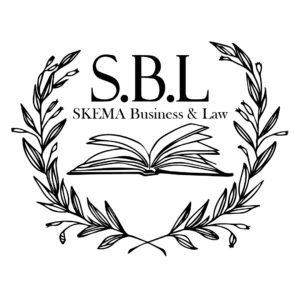 The purpose of the association is threefold:
- Promote the law within SKEMA (meetings, debates, articles, etc.)
- Answer free of charge to legal issues that students or associations may face
- Build a network of contacts between SKEMA Alumni and New Law Students
Main events :
The Mock Trial: Welcome to a Star Trial! This event allows any curious student, legal or not, to discover advocacy by accusing or defending a famous film character or celebrity. A jury of professionals, professors and students will be there to give their opinion and make the thing more real.
Conferences: Conferences are an opportunity to bring students together around a topic that directly affects their personal lives. This will include discussing cryptocurrency with the finance association of SKEMA BS. Professionals will intervene to allow the Skemiens to discover the world of law in different facets while democratizing it.
Legal News Department
The Legal News department touches everyone. Its purpose is to make the law accessible and to make known the ins and outs of certain procedures of everyday life such as the steps in case of moving into a new dwelling. However, the pen of the members of the pole does not only touch the beginners in law: the student wishing to pass his bar will find his account, as well as the fan of news who wants to analyze the wave from a angle little approached. The members of the department have at heart to combine pedagogy and rigor to interest curious ones and specialists.
Legal Training Department
The Legal Training Department particularly affects Skemiens. Thanks to them, no more involuntary infringement of copyright, surprises in the face of an unexpected fine, the members of the pole offer legal training, first of all to the presidents and treasurers of the Skemiennes associations but also future training modules useful to students, such as for example the legal aspect of business creation.
Event Department
The event department's mission is to promote the association and the school through its events. To do this, we welcome legal professionals, at events in different forms (conferences, round tables) to share with students and interested parties the advice and knowledge of our guests. These meetings are an opportunity to address legal issues in a more interactive and didactic way. This department also aims to showcase the world of Justice, through, among others, Afterworks, Business Games and contests such as a fictitious trial.
Communication Department
The department aims to promote the association both at SKEMA and outside through our different platforms (Instagram, Facebook, LinkedIn). The members of the department are responsible for disseminating information about events and developments of the association.
The first phase is a 30-minute interview with several members of the association. Then it is required a job according to the chosen department or departments and finally an aperitif to get to know each other better and be mutually sure of our choice. 
President: Louise JOUEN
Email address: louise.jouen@skema.edu
Instagram
Facebook