HeForShe Skema Business School à Lille réunit des étudiants et des étudiantes soucieux de représenter un principe simple : l'égalité entre les genres.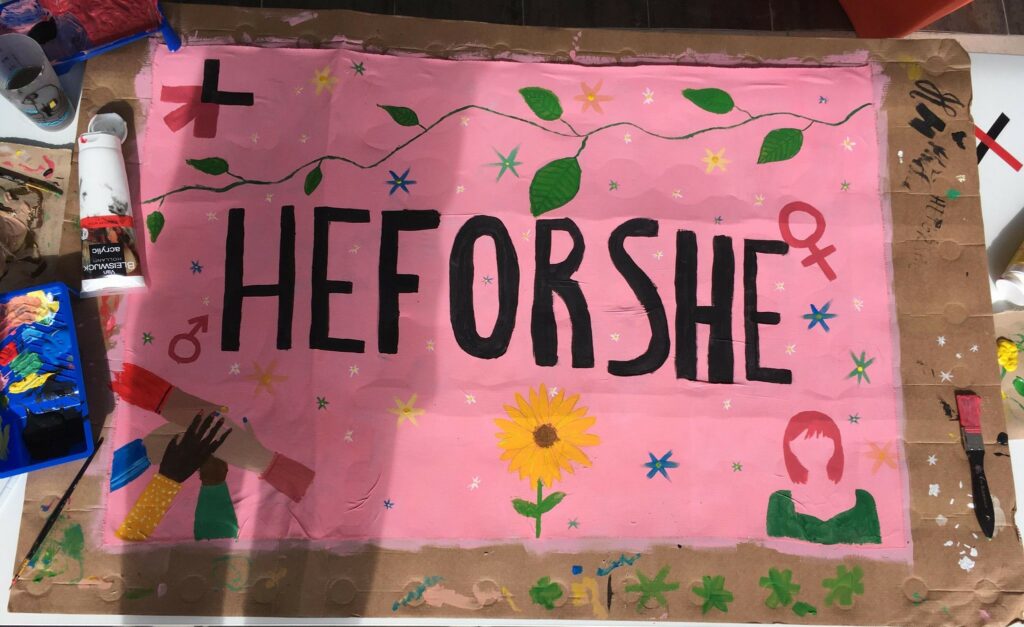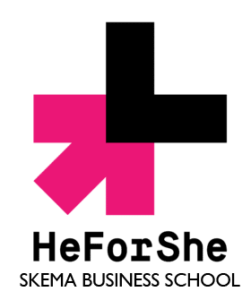 HeForShe is a solidarity campaign advocating for gender equality launched by UN Women in September 2014. The primary objective is to involve men and boys in the march towards equality by encouraging them to take action against the inequalities faced by women and girls. It aims to include and gather around a theme that concerns us all politically, economically and socially. The aim of the association is to inform and sensitize men and boys to the issues of gender equality. We want to do this in a positive way that encourages them to act in favor of this equality, that they feel concerned and that they recognize their role as decisive actors. Our approach evolves within the framework of a global and international movement, we represent the antenna of diffusion of the movement's ideas based at SKEMA Business School Lille.
Main events :
Tous les ans, HeForShe met en place la semaine des droits des femmes. Nous proposons chaque jour de la semaine, aux skémien.nes des activités sur le thème des droits de la femme pour permettre de sensibiliser sur le sujet, de mettre en avant les avancées mais aussi les progrès qui restent à faire dans ce domaine. Au programme : atelier de self-défense, conférence sur les femmes dans le cinéma, atelier de sensibilisation aux maladies comme l'endométriose, le cancer du col de l'utérus et les MST, un concert en collaboration avec SoNord donnant lieu à de nombreuses réinterprétations des titres d'artistes engagé.es.
HeForShe Skema Lille collabore beaucoup avec d'autres associations skemiennes : à ce titre chaque année nous mettons en place l'événement "Green EntreprenHERship", plusieurs conférences en partenariat avec Enactus sur les thèmes de l'entreprenariat féminin et l'écologie. Des intervenantes nous parlent de leur expérience en tant qu'entrepreneuses engagées dans la lutte pour la protection de l'environnement. Nous collaborons aussi avec Septième Art pour mettre en avant le rôle des femmes dans le cinéma en proposant des ciné-colocs.
Communication Department
The Communication Department is in charge of communicating through different channels, including social networks. In addition, it must give visibility to the association within SKEMA and therefore relay information, videos, striking images before, during before, during and after the events. 
Event Department
The Events Department plans the association's calendar of events as well as their material and their material and financial organization. The members are in charge of all the logistics of the events.
Canvassing Department
The role of the Partner Relations Department is to keep the association's sponsorship brochure up to date the association's sponsorship brochure, look for sponsors (e-mails, calls, meetings), negotiate sponsorship or partnership contracts, without forgetting to maintain relations with them. It is also up to the members of this pole to actively seek speakers for the association's for the association's events.