SKEMA Ventures Club (SKVC) is a student association which promotes entrepreneurship and intrapreneurship in Lille, Paris, Sophia and Raleigh.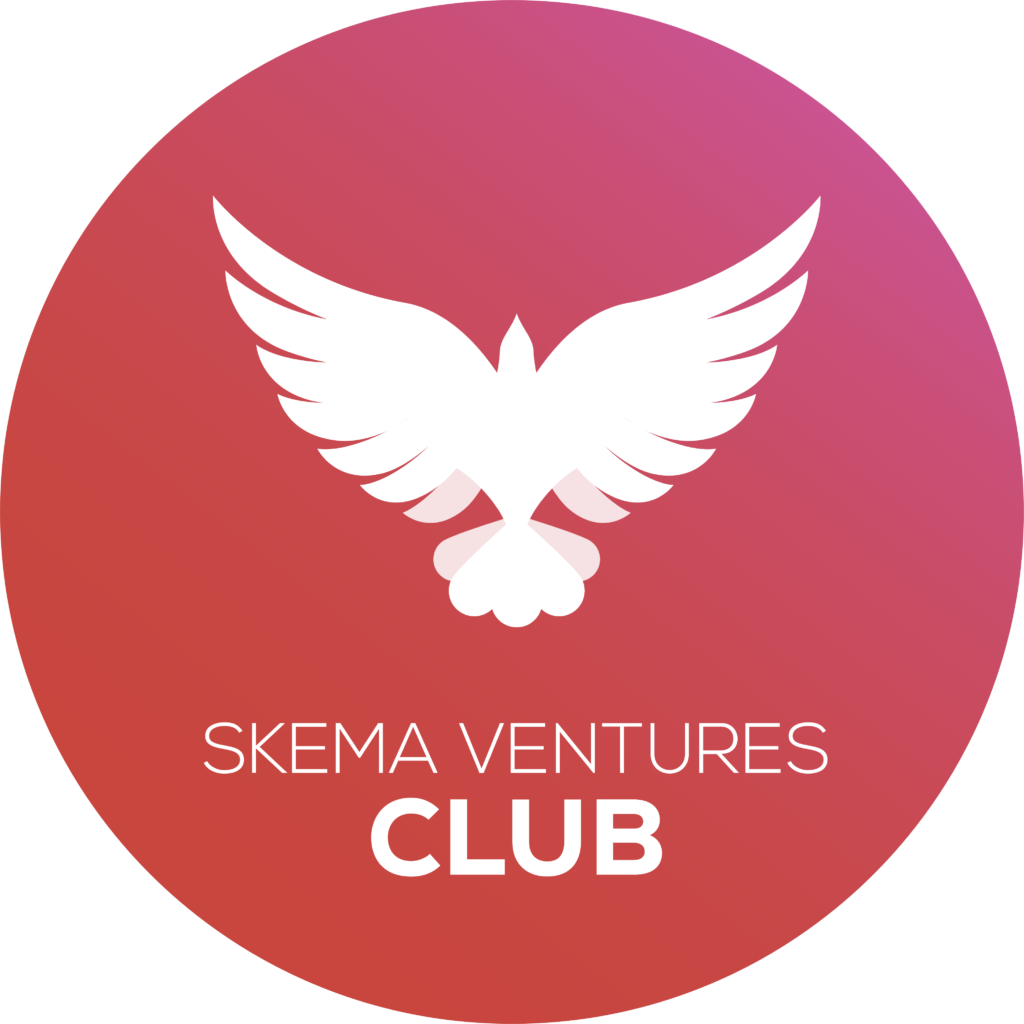 At SKEMA Ventures Club, we help SKEMA students to transform their vision into a project, to connect and exchange with a community of entrepreneurs by co-creating events with the SKEMA Ventures incubator. In addition, we coach start-ups and help them define and refine their entrepreneurial ideas to have higher chances at being incubated. Our events and productions in all their forms are a good pretext to discover all the subjects that entrepreneurship covers thanks to the participation of entrepreneurs, members of management committees or company managers from all walks of life. Financial, commercial, agri-food, social and solidarity, cultural, sports, digital, and so many others: entrepreneurs offer us the rare opportunity to address all subjects. The diversity, from their legal form to their field of activity, offers a wonderful springboard for presentations and debates that will allow you to free yourself from many preconceived ideas about entrepreneurship.
Main events:

1) "The INCUBATOUR" is a national project allowing students to visit local incubators.
2) Interviews with entrepreneurs and people related to the entrepreneurial environment in order to make students discover their career path, motivation, innovation.
3) Entrepreneurship week with a different theme every day in partnership with other SKEMA associations and by organizing conferences with entrepreneurs, training sessions, round tables... We will close this week with the 10H CHRONO by SKVC, 10h, 12 teams, 12 projects. Inspired by the concept of start-up weekends, this event allows all SKEMA students to create an innovative and original start-up project.
4) Organization of TEDxSKEMA to relay ideas for change and reflection.
5) Creation of a newsletter on campus and on our website. The objective is to allow students easy and quick access to information related to entrepreneurship. You will find start-up tips, biographies of entrepreneurs telling their story and the process of founding their start-up. And finally, entrepreneurial advice (explanations of the roles of the authorities, reading tips, etc.).
6) Finally, we organize other events such as the Entrepreneurs' Speedating, the VENTURES WORLD, a day dedicated to entrepreneurship.
Event Department
We organize all the events of the association within this pole! We are constantly looking for new ideas for original and promising events to develop the association and the support our entrepreneurs to become.

Entrepreneur Department
This department consists in supporting students with innovative ideas within the school. Thanks to our partnership with SKEMA Ventures, we help these students to be incubated. The idea is that each person we support will turn their vision into a profitable project. In addition, we train ourselves on project follow-up and business creation while we also organize trainings and workshops in a friendly atmosphere to move forward together in the right direction.
Networking/Connexion Department
We can never say it enough. The most important thing is always the quality of our relationships and the way we surround ourselves. We are convinced that the best way to grow, to succeed and to expand our field of possibilities is to be in contact with the right people and to ensure the quality of the exchanges. Within the network division, we maintain privileged relationships with the SKEMA Ventures incubator, alumni, entrepreneurs and incubates.
Communication Department
It is important for us to share the right image, the right discourse and the right intentions. Within the pole, the team manages and animates the social networks. Moreover, it is dedicated to the creation of visuals and entertaining and useful contents for the events.
There are two phases of recruitment at SKVC.The first is a 30-minute interview with one or more members of SKVC. It consists in discovering the personality and the skills of the candidates. Finally, the second phase brings together members and candidates during a convivial moment to get to know each other.
President: Kiara ZAGO
Email address: kiara.zago@skema.edu
Phone number: 07 78 39 95 81
Email address of the association: skventuresclub@gmail.com
Facebook
Instagram
Linkedin