Skema Ventures Club entend promouvoir l'entrepreneuriat au sein de SKEMA Business School grâce à la mise en place d'un suivi projet permettant l'échange entre une communauté d'entrepreneurs tout en co-organisant des événements avec SKEMA Ventures.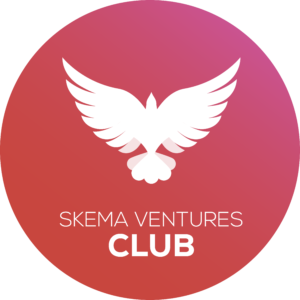 Main events :
The Ventures World : The event will be held in two parts (locations not finalized due to the crisis) : - Workshop in Hall A: We propose to animate workshops with entrepreneurs on several themes such as : Financing (fund raising, crowdfunding), Entrepreneur's mindset, Business Model (Lean CANVA), Incubation - Pitch sessions and Q&A in Amphi B : One entrepreneur every half hour, 15 min: pitch, feedback and 15 min : questions/answers
The boutique fashion show takes place every year in March. It is a fashion show during which the boutiques in the Lille area have the opportunity to present their collections worn by Skemian students. Unlike the boutique fashion show, this one takes place in the school's premises.
12H chrono : This event is aimed at entrepreneurship novices. Our ambition is to train them and accompany them in the development of an entrepreneurial project over 12 hours. There is still a notion of competition, because the teams that stand out will be able to advance from stage to stage without being eliminated. We will also solicit their capacity of reasoning during the two Business Games of the afternoon, as well as their capacity to pitch during the final test.

Business Unit
- Follow the projects of entrepreneurs within the school and support incubatees' projects.
- Maintain our privileged relationship with the Skema Ventures incubator, participate to their events
- Self-training on project follow-up 

Ventures unit
- Organize all the events and keep an good coordination with the others SKEMA VENTURES CULUB branches.
-Leading workshops with our partners
- Think about the creation of new events to develop the association and include our partners in thoses events. This unit can write articles dedicade to SKEMA students. They can also challenge skema students on entrepreneurial issues. This unit can contact all the incubator around Lille to program an incubatour. It is an ambitious project and it will be possible when the sanitary crisis will be finish.

Network pole
- Manage social networks
- Achieve Inspire & Share by interviewing entrepreneurs and creating a harmonious feed on Instagram. Inspire & Share is a podcast shared on Spotify and Apple Podcast. It provides different sources of inspiration for SKEMA students
- Create visuals and content for our events