PourParlers - Student forum
PourParlers is SKEMA's student forum. Located on the Lille, Paris, and soon Sophia campus, it aims to inspire and share culture and information within the school.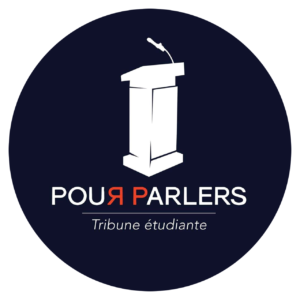 Created in 2006, the association now has around forty members divided into five poles on the Lille campus. The association has been present in Paris since September 2020 and plans to open a branch in Sophia in September 2021.
L'association organise traditionnellement des conférences avec des personnalités publiques de tous les domaines (sport, culture, politique….). Elle organise aussi des débats et le concours d'éloquence de l'école (le Prix Cicéron), des simulations onusiennes (MUN), rédige et publie mensuellement le journal POD (Le Petit Oiseau Déchaîné). Tout ceci est promu par le pôle communication.
Thanks to its numerous events and the diversity of its missions, PourParlers has made a place for itself in the associative landscape of Lille by offering students the opportunity to be informed, to debate, to meet, and finally, to get together to share.
Main events :
Each year the association organises the SKEMA eloquence competition: the Cicero Prize. After two selection rounds, the four best speakers compete in a fiery final before an exceptional jury. This year, 2021, will mark the fourth edition of the Cicero Prize.
In addition to its flagship conferences, the association organises a major UN simulation every year: SKEMUN. SKEMA students and students from other schools meet for a weekend and are plunged into the heart of the United Nations. Divided into delegations representing one country, the students defend their interests and debate in order to find the best solution to the problem at hand.

Pôle Event et Démarchage
The pole organises several conferences each year to allow the whole student community, and more, to meet personalities who impact our time: politicians, public figures, professors, artists... The association has for example received Hubert Vedrine, Alexis Corbière, Jacques Attali, and Isaac Getz. In addition to these conferences, the pole is responsible for canvassing financial partners.
Pôle POD
Its main mission is to write the school's emblematic newspaper, Le Petit Oiseau Déchaîné (POD). But the pole also works to synthesise the news, to reflect on social issues, to participate in the student radio, and of course to correct spelling mistakes. In order to promote the writing talents of the student, the pole participates in a national student press competition and organises writing workshops.
Pôle Eloquence et Débats
Directly linked with the activities of the FFD (French Debate Federation), the members are the actors of friendly debates, and of Lille and national eloquence competitions. The pole also organises the Cicero Prize, the school's eloquence competition, presided over each year by exceptional juries. All members are active in all other projects (organisation of debates, training, workshops).
Pôle MUN
Un MUN est une simulation des Nations Unies, à travers laquelle sont représentées les différentes délégations présentes aux négociations internationales. Chaque délégation prend le rôle d'un pays et se doit d'y défendre ses intérêts. Le pôle participe donc aux différents MUN nationaux ou internationaux (GEMUN, AUCMUN). Il organise également des simulations de conseil de sécurité, des gestions de crise, des MUN, et des synthèses de l'actualité géopolitique au sein de SKEMA. Les membres sont formés, puis aptes à s'exercer au niveau international.

Communication Department
Essential in the association, it ensures the transmission of information within the association and the school. By communicating about upcoming events through written and visual support, on social networks and in SKEMA, the pole aims to strengthen the association's visibility. The members learn to master the major techniques of communication and graphics, and make the numerous events of our association shine.