A "community" of students interested in exploring and engaging in entrepreneurial activities including: startup visits in Raleigh, team competitions solving real startup business problems, skill training and practice, guest speakers and having fun with entrepreneurship activities.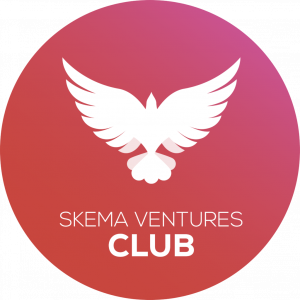 The objectives of the SKEMA Ventures Club are:
o To promote Entrepreneurship among all SKEMA students and to provide an opportunity for them to engage in entrepreneurial activities together and with NC State University, the local Raleigh entrepreneur community, and US startup companies.
o To conduct events in support of SKEMA Ventures locally, globally and with SKEMA Ventures groups on other campuses
o Participer au développement professionnel des étudiants de SKEMA à travers la découverte de l'entreprenariat, l'interprenariat et des sujets similaires.
o To support and encourage students to develop and pursue their interests in Entrepreneurship and business startups.
o Sensibiliser la communauté d'étudiants, l'environnement local et global d'entrepreneurs a SKEMA Ventures.
o To grow entrepreneurship relationships with local partners, universities, organizations, and businesses

Main events :
SKEMA Ventures Bootstrap – Opportunity for student-entrepreneurs consolidate their business projects and move closer to launching them. The Bootstrap will enable you to understand the issues and challenges of entrepreneurship, explore the entrepreneurial mindset identify the right business model to support your business idea, design the key components of a business model that would support your value proposition, and finally, formulate and practice the business pitch and present your venture to investors and stakeholders … in a 3 day immersive workshop with expert coaching by SKEMA Ventures coaches. https://ventures.skema.edu/events/hybrid-bootstrap-workshop-for-usa-and-brazil-campus-students/
At the Startup Kafé , you can share your concept with other students, alumni, and entrepreneurs from The Venture Family via a two-minute "elevator pitch" and obtain feedback and inspiration to develop it further. This is a good opportunity for you to explore your idea in a friendly, informal environment. Students from SKEMA's partner schools also attend the event, which gives everyone the opportunity to network.
President
Vice President of Communications

Vice President of Marketing
Vice President of Finance
Vice-Président en charge de l'événementiel
Vice President External Relationships
There may be several students in the same department. Recruitment happened at the beginning of each semester, a week after orientation.

Contact : Mitchell Weisberg
Adjunct Professor
Strategy and Entrepreneurship
Manager – SKEMA Ventures
SKEMA Business School – US Campus
920 Main Campus Dr, Venture II Suite 101
Raleigh, NC 27606, United States
Tel : +1 781.249.3750
Skype: weisbmi
Email : mitch.weisberg-ext@skema.edu or profweisberg@lumeninc.com