Interculture Skema takes care of integrating, helping and supporting new international students on the Sophia Antipolis campus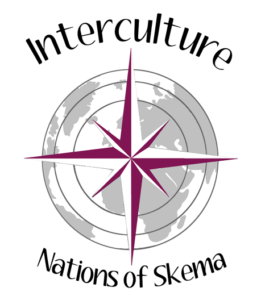 Interculture's main mission is to welcome, integrate and support international students into Skema's student life so that they can flourish. We have reinforced this support by setting up a sponsorship system between French student volunteers (from all programs) and our international students. We also want them to discover French culture through local places and activities. This is why we organize our events in partnership with other associations and campuses such as Millesime for St. Patrick's Day, SKonnection Lille for the trip to Paris or Diskovery for the walks in Cap d'Antibes.
Main events: "Buddy parties" is an essential and traditional event at Interculture. The objective is to allow each foreign and French student to exchange and share in a festive and friendly context. Thus, we write a number on the hand of each international student who has to find his French partner with the same number.
The International Day is an inter-associative project whose objective is to promote the international dimension of the school by making discover the culture of the 4 countries where Skema is established: the United States, China, Brazil and France. For each day, activities will take place accompanied by local food and music.

Event Department
This indispensable pole allows us to organize Interculture's many events throughout the year. We rely heavily on the international students for new ideas as they are the best people for this. We have many projects such as the trip to Paris or the visits around Antibes.
Communications Division
This department allows us to actively communicate on social networks. We have Instagram, Facebook and Gmail. Recently, we created a Discord platform for online games and TikTok to post our event videos.

Party Department
This department allows us to organize the parties of the association. Finding a place, activities and negotiating the price of drinks and food are the main missions of this pole. We organize a lot of parties like St Patrick's day, WEIQ and Buddy's parties.
Travel Department
This department allows the organization of Interculture's trip. Every year, Skonnection Lille and Interculture meet in an unusual destination to share good times. This event allows international and French students to meet students from another campus. This year, we are going to Paris!
Visit department
This department allows us to organize visits to the area around Antibes. Once or twice a month, we leave with a group of 20 students to explore new horizons: the Lérins islands in Cannes, the Ephrussi de Rothschild villa in Grasse or a walk in Saint Jean Cap Ferrat.
Recruitment is an important step for all associations. At Interculture, we try to find out what makes the candidate different from the others, what he/she could bring to the association and what we could bring to him/her. Our recruitment process is divided into 3 phases. In the first phase, we ask general questions about the candidate. In the second phase, we try to discover the candidate's personality in the form of a "Fast and Curious". The candidate must answer spontaneously and quickly. Finally, the third phase consists of small challenges.
Présidente : Marjolaine GOUMY
Mail : marjolaine.goumy@skema.edu

Instagram